The Alpine Word Ski Championships in Courchevel/Méribel, France ended with quite a sensation: For the first time in history, a Greek competitor was able to earn a medal at an Alpine Ski World Championships. AJ Ginnis elated not only his entire country, but also ONE WAY with this first Alpine Championships medal.

SIRTAKI DANCING IN FRANCE
Two weeks after AJ Ginnis, the Greek slalom specialist with American roots, was able to battle his way to a World Cup podium finish in Chamonix as the first Greek to do so, he went one better at the Alpine Ski World Championships in Courchevel/Méribel, France: In the final event AJ Ginnis won a silver in the Slalom. With a sensational first run, followed by a cool and controlled second run, AJ entered the history books as the first Greek ever to win a medal at the world championships of any type of winter sport.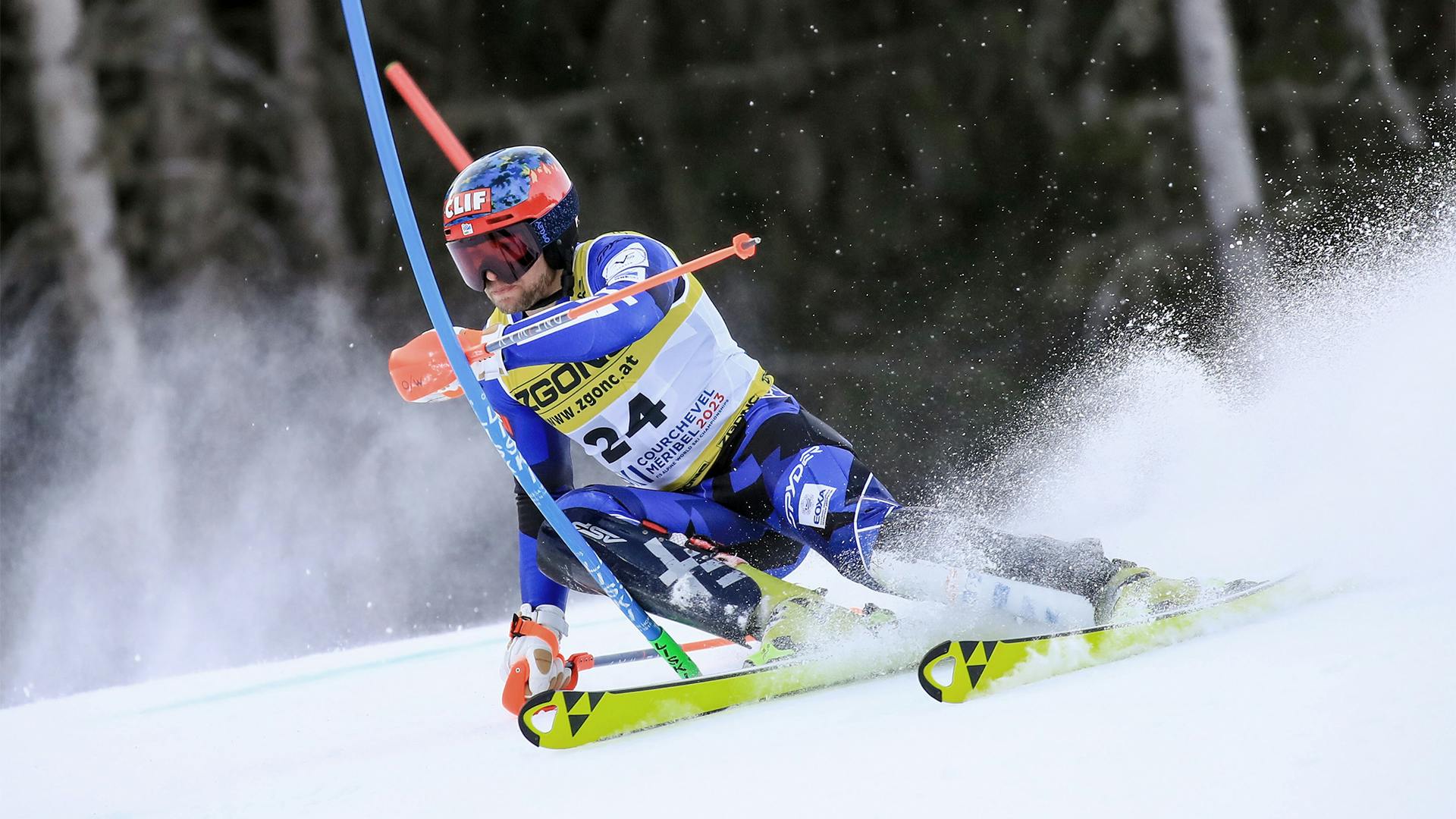 This was not just sensational for Greece, but for ONE WAY, as well. This is the first season that the brand, with six international athletes, has gone to the starting gate in Alpine racing. "We're even more proud as a pole supplier to tally an Alpine World Championships medal for ONE WAY along with our ongoing World Cup successes," enthused Severin Lehner, Head of ONE WAY.
Interview WITH AJ Ginnis
How did you feel before the race got started?
I was super excited to get things going. Conditions were icy and I was amped!
Do you have a ritual bevor every race?
The only "ritual" I say I abide by is during the end of inspection. I have to go through the finish, look back at the course and think about the toughest part I need to focus on most. Then I spin back around and go through the visualization. <Loughing> It's just one of those dumb things people do.
How would you subscribe the feeling when you realized that you won a silver medal?
Lunacy. When I came through the finish I saw 12 and not 2 so I thought I lost it. Next thing I saw was +0.20 and I was wait is that on the run or overall or what is going on. Then I saw the big glaring 2 and I lost my mind. I went from "damn AJ you really blew it" to "Holly smokes you did it!"
You had to fight with knee injuries again and again, how are you doing with the two knees currently?
I've had many knee injuries, yes. Unfortunately the knees will never be perfect but my team and I do a good good to get them to do enough to be working! Taking care of my knees is a full time job and of course pain, sometimes, comes with the territory.
First silver medal for you, and first medal for Greece at the world championships of any type of winter sport – that is quite special! Are you a big star in Greece now 😊?
I think people are tired of hearing my name by now haha. The Prime Minister called me even, I'd say people are extremely excited over this medal!
Favorite skiing resorts in Greece?
Mt. Parnassos
Anything else you want to add?
Big thank you to my coaches, sponsors, family and friends! And of course a big thank you to my Fischer race family!